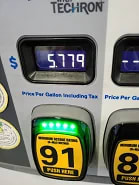 Last night I paid $5.77 a galloon for my gas guzzling car. It is predicted that gas prices will soon hit $7.00 a galloon due to the current unrest with Ukraine and Russia. When gas topped over $5.00 a galloon 6 months ago, I thought it was a temporary increase. Now, it looks like those days are long gone. I wrote this blog two weeks ago. Now I am paying $6.39.
It is easy to feel nervous and scared in these times of unrest. I recently discovered Ayana Elizabeth Johnson on a Tim Ferris podcast. She is my new favorite climate transformation expert. She is enthusiastic and presented many solutions on what we can do. https://www.ayanaelizabeth.com.
Here are several ideas how to take action to reduce energy consumption.
Invest in solar panels for your home. In the near future, roof tiles will have solar panels will be built into them. It will look attractive and save on energy.
Buy an electric or hybrid car. Their demand will increase dramatically, therefore prices will start going up since the supply will not meet the demand. It will take manufacturers a long time to catch up. I am exploring a hybrid for now since I need an all-wheel drive. My goal is to find one that gets 40 miles per gallon. Any recommendations?
Reduce energy costs in your home by insulating your home and installing new windows. We just did that to our home in Tahoe, and the results are dramatic.
Each one of us can find ONE thing to do to make a difference. What will yours be?